Bob Lowey, co-founder of Tai Chi Caledonia, has produced this CD which you might like to relax with……..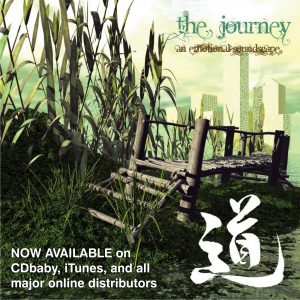 The Journey (An Emotional Soundscape) is a concept album by Bob Lowey and Jono, illustrating an individual's escape from anxiety, depression & loneliness, in the pursuit of self confidence.
NOW AVAILABLE!
CD. Order from: http://www.cdbaby.com/cd/boblowey and please leave a review.
MP3: https://itunes.apple.com/gb/album/id1163289341?app=itunes
1) Morning Humdrum: It's been a year and I still feel like this! Fed up with it. Can't sleep, every night, hate TV, hiding from anything and everyone, no motivation, empty.
2) Courage & Confusion: Need to get out of here! I'm doing it today. I'm scared but I need to get out! I can't do this. Gotta try. Here goes. No turning back.
3) Premonition: Pretend you forgot something. No! Go! Keep walking. There's the guy from upstairs… don't look!
4) The Journey: Just go down the road. Another five minutes and I'll be in the park. The sun is out!
5) Park Life: Beautiful day. Warm. Kids are having fun… so should I. Time to be positive.
6) Interwoven: Wait… someone wants to speak to me… that was nice, people can be so nice, it's good to talk, to share, to… trust?
7) Acculturation: Need to get some shopping. This is a big achievement for me! Oh wait a minute… I know that face.
8) Welcome Home (String Theory Remix): I haven't seen her in years… need to be confident! Should I turn back? No… do it!
9) Reconciliation: Good to see her again. Let's have a coffee together and catch up… Get a taxi home.
10) Peaceful Slumber: So tired… haven't been like this for ages… tea, book and bed. Maybe I'll have a good nights sleep for a change.
11) Quiescence: Good to be home. Where to go tomorrow, pleasant dreams.