Tai Chi Caledonia: History

Tai Chi Caledonia 2005 - A Beginner's Guide
Review by Elaine Gibbs from Tai Chi Chuan Magazine 20

2005 was to be my first experience of Tai Chi Caledonia. Having dabbled with Yang style for a few years it was time to broaden my horizons; what better way than with a week of rest and relaxation on the beautiful campus at Stirling. And so, after a stressful few weeks of work, I set off in eager anticipation. Laden with novels and soothing CDs, I was ready for a week of quiet Taiji practice. I was confident that I would meet like-minded people; after all, I thought, Taiji attracts a certain type; gentle, unassuming folk who are abstemious and enjoy early hours.
Well how wrong can you be.
Things started off OK. I was greeted enthusiastically by Karen Limb like an old friend. I met a few of my "chalet-mates" who all seemed pretty normal and so retired early after a long train journey. My only concern was whether I would be the last one up for Qigong practice in the morning.
The next day we all gathered for a briefing and I was able to meet my fellow students. Everyone was very friendly with a truly international mix; many were busy renewing old acquaintances. We were serenaded by a Scottish harp and treated to a history of Tai Chi Caledonia: now celebrating it's 10th year and obviously going from strength to strength. We met Ronnie Robinson, responsible for organising the whole event, but who seemed unlike my regular Taiji instructor (although any guy who's prepared to wear blue silk pyjamas in public can't be all Yang), and were introduced to our instructors for the week.
Everything was in fact going very smoothly until mention of the lack of a "bar"; news of which generated considerable anxiety amongst some present: but surely, I thought, these folk drank nothing stronger than herbal tea? There were even to be "social activities", but as this required taking along your duvet for (presumably) some quiet meditation exercises I was not unduly concerned. I was, however, beginning to entertain doubts that some of these Glaswegians approached their Taiji rather differently to me.
We were soon into a series of workshops rotating over the weekend. The only problem was which to attend? On offer were sessions as varied as martial applications, Qigong healing and "silk reeling". I discovered that the fan is not just a pretty ornament but an ominous weapon of mass destruction. I learnt some new Qigong exercises, such as how to imitate a crane, and others which proved rather more taxing to the brain. I studied Taiji applications with Bob Lowey, and discovered the (now obvious) links with Irish dancing. I did work on body awareness and was sorry to miss Helmut Oberlack's new "bat and ball" taiji method.
We were also treated to what, for me, was one of the highlights of the week; some dazzling displays of Taiji styles and forms performed by our instructors in full regalia. I fell in love with Faye Li Yip's fan form and Master Wang Haijun's thighs. There were impressive weapons displays; maybe there was more to this Taijiquan than I had realised and not all at the gentle pace of my familiar Yang style form.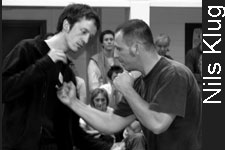 During the week we focused on specific workshops. I chose Master Ken Van Sickle's Taiji Sword, and although initially disappointed not to be studying form, quickly became hooked on fencing. With Master Ken's numerous examples of applications I am still keen to learn sword form, but now chiefly to improve my fencing technique!
I struggled through one of Mario Napoli's "Push Hands" sessions which involved being subjected to some sort of ancient Chinese torture. Amazingly people went back for more. It did however prove good preparation for attempting Master Wang Haijun's athletic Chen style form and low stances. Other workshops on offer were by Marianne Plouvier teaching an intricate and beautiful version of "Eight Pieces of Brocade", Faye Li Yip teaching Sun Style, Nils Krug on Cheng Man Ching form and applications, Qigong Healing with Annie Roberts (which was very tempting by the end of the week as apparently you were actually allowed to lie down) and "coiling" Qigong with Franco Mescola.
Everyone I spoke to thoroughly enjoyed their chosen workshops and benefited from focusing on one or two areas. By the end of the week it was evident that many new friendships and contacts had been made, with free exchange of knowledge and skills, and people eagerly training and learning together. I certainly felt privileged to have worked with some true Masters of Taijiquan.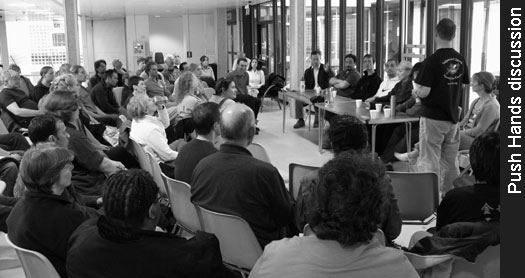 Over the week there was also plenty of opportunity for engaging in "push hands". As a newcomer to this I was a bit wary, although managed to get roped into representing the "I don't have a clue what you're talking about" point of view on an open forum discussion panel. This opened quite a bit of debate which continued for several days. By the end of the week, though, I had discovered that even "push hands" was OK as long as you had the right partner.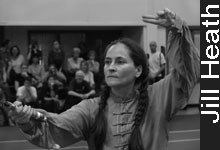 So after all this mental and physical exertion did I get my early nights and cocoa? Well, not exactly.
It turned out these guys knew how to party too. Impromptu late night gatherings were the norm (usually incorporating some healthy discussion of Taiji and related topics). We enjoyed a fantastic Chinese Banquet in Glasgow, an energetic Ceilidh and a (possibly over) enthusiastic Samba band. I learnt plenty of new dance steps and even discovered a penchant for the drums. We were also treated to a display of Scottish dancing and some formidable sword fighting by "The Clann".
And so, if you get the chance, I recommend you to attend Tai Chi Caledonia, whether you are a relative beginner or an experienced practitioner. There was a great variety on offer, as well as being a thoroughly enjoyable and well organised event, thanks to the hard work of Ronnie, Karen, Fiona, Bob and their team of helpers. There are, however, a few things I wish I had known beforehand:-
A light on in your chalet is taken as an open invitation to party.
Don't mention "Qi" unless you're prepared for a 2 hour discussion
Don't drink anything that smells like paint-stripper even if it says "Scotch" on the bottle
Taiji in the rain is great but don't forget this is Scotland- you need your midge repellent (and waterproofs)
Watch out for "squeezels" - they will steal your breakfast given half a chance
So if my week was not quite what I was expecting, would I go back for more?
Well, I have a few new friends to catch up on. Also, having entered the "thigh girth challenge" and with a few unfinished bouts of fencing, I think I am committed. You never know, I might even try some push hands.
Review by Elaine Gibbs from Tai Chi Chuan Magazine 20
Back to past events