Tai Chi Caledonia: History

Tai Chi Caledonia 2006
review by Val Green from Tai Chi Chuan Magazine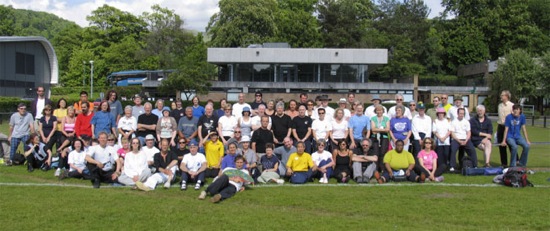 Fortunately we had checked on a map where Stirling was as the Sat Nav had just said 'keep going north until it starts raining and things start biting you'.
In fact it was a beautiful sunny day on our arrival at Stirling University, venue for the 11th Tai Chi Caledonia.
We had heard of Caledonia many years before and always intended to go but had never quite got round to it but when our instructor was asked to teach there it was too good an opportunity to miss. Twelve of us took various routes arriving on Friday afternoon to be met by Karen Limb who was lovely and caring and escorted us to our accommodation.
We had a very relaxed evening exploring the campus which provides a beautiful and ideal venue for such an event even though some of the buildings are of a 1960's bare concrete type.
After an evening sitting outside socialising, meeting lots of nice people and trying to keep a lid on the drinking in view of the busy time ahead, we had a meeting at a civilised time the next morning when Ronnie Robinson the organiser welcomed everyone, explained what was going to happen and introduced the instructors and an impressive line up it was too. The helpful and well produced leaflet which advertises Caledonia had detailed short C.Vs for the instructors and the problem was always going to be a desire to see everyone.
Ronnie also delivered a moving tribute to the late Gerda Geddes and left us with a desire to have met her.
The weekend programme provides taster sessions throughout the day allowing us to sample all the instructors. Our group spread around and managed to see everyone and after many discussions about who we had seen and what we had done we found that it had all been a very positive and enjoyable experience if a little bewildering at times seeing and hearing about so many different aspects of Taiji and Qigong.

It would seem unfair to pick out individual instructors as they were all appreciated but the demonstrations we were treated to on Sunday evening were memorable with Faye Yip and Luis Molera giving us a wonderful combined fan form. Luce Condamine looking beautiful and impressive with a sabre that seemed as big as herself. Richard Odell and Marianne Plovier doing different styles of sword form. Bob Lowey who was one of the original founders of Caledonia I believe and someone who always enhances any event of this nature doing a hand form and as usual managing to inject some humour into the occasion. Roger Jahnke who had come over from America did what he described as a 'warm up' he had learnt at the Shaolin Temple and it involved a series of stretches and stances way beyond most of us.
The weather had stayed sunny and warm and the whole event for me seemed to pass far too quickly and I wished I was staying the whole week.
Later we all got together and heard about how the rest of the week had gone:
The weather continued to be splendid and most of the workshops continued outside. It was now possible to explore things in more depth with two and a half hour workshops in the morning and afternoon.
Roger Jahnke was appreciated for his depth of knowledge and relaxed style working with Qigong.
Faye Yip was appreciated for her enthusiasm and sheer ability which was very impressive and inspiring.
Sue Woodd showed an all round knowledge as her C.V would suggest and great energy.
Richard Odell worked on straight sword applications and managed to get a whole group through a two person application sequence
Mario Napoli has an impressive record in push hands competitions and is a big character unlikely to go unnoticed in the world and he likes to take you just that bit lower in the stance until the pain builds.
Unfortunately we could not sample everyone but during the buffet on the last night the instructors received a very genuine and sustained round of applause as did Ronnie, Karen and all the helpers who not only had to run Caledonia but also had a TCUGB judges training camp and the AGM of the TCUGB to cope with as well.

The evenings continued in a relaxed and friendly way with a couple of buffet's, a trip to a Chinese restaurant in Glasgow and sitting around the chalets talking, drinking and joining in impromptu salsa and Bailong ball sessions and of course there was some light pushing hands
The food provided by the university was not all battered mars bar and haggis but Gorden Ramsey may have strayed into the profane in describing it but the facilities allowed us to cook for ourselves if we wished and the evenings buffets were appreciated.
All our group would like to express our gratitude to Ronnie, Karen and the others who quietly helped in particular but also to the instructors and everyone else who participated and made it such a lovely time.

I shall reset the Sat Nav to read 'head for the sun and friendly people' and look forward to next year
Back to past events