21st Tai Chi Caledonia
8-15 July 2016
---
Thank you for visiting our website where you will find details of our latest event, Tai Chi Caledonia 2016, our 21st year offering high quality teaching of Tai Chi Chuan, Qigong and other Chinese Internal Arts, here in the heart of Scotland.
For 20 years we have staged this Tai Chi Chuan, Qigong, and other Chinese Internal Arts event, here, in the heart of Scotland, set among the beautiful, natural environment of Stirling University Campus
In addition to comfortable accommodation in either single or, if you prefer, double rooms we invite a range of high-quality instructors from various European locations and beyond.
---
A short video from not so long ago: https://www.youtube.com/watch?v=cKqRLGVF0lk
---
Have a look through the various pages of our website for more information about our program and who are teachers are.
If you'd like a pdf of our program simply click on the image below. .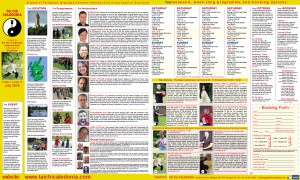 ---
– Below you can read about last year's event –
---
20th Tai Chi Caledonia – 2015

So 20 years have come and our celebratory event ended quietly after an eventful week, in many ways….
Preparations for the big event began immediately after our 19th meeting when Al Scott and I arranged a meeting at Stirling University to go over various aspects of what promised to be our most significant event ever.
Following a brainstorming session, organised by participants at the 2014 gathering it was clear that there was an appetite for something very special. Tai Chi Caledonia had, over the years, garnered a very good spirit which stimulated the majority of attendees to return year after year.
In addition to the extended program, offering 60% more 'taster' sessions we wanted the highest quality teaching combined with a very special Gala Evening to celebrate all the European Internal Art could offer. This prompted us to book the theatre and arrange the performances.
With a blend of both Scottish and Chinese culture we brought together Scottish pipers and dancers with Chinese musicians and the cream of European instructors, many of whom were European and World champions in their respective disciplines.
Despite the (even for Scotland) appalling weather, travel difficulties (missed flights, broken cars and closed motorways) and personal mishaps, over 200 people gathered to share the "Spirit of Caledonia!"
In a couple of days I travel once again to Venice, to the beautiful island of St Erasmo to join our good friends at Tai Chi AquaVenice. During my lengthy travels I'll work to edit the photographs to bring you a selection from our friends who kindly supplied them.
In the meantime allow me to thank everyone involved in creating the "Spirit of Caledonia!", from the volunteer staff, the exceptional performers, many of whom travelled at their own expense, the incredibly talented range of teachers who gave from their hearts and to each and every person who attended the event, creating an atmosphere of openness, giving, consideration and joy to the lasting benefit of each other!
Ronnie Robinson 29.07.15

Here is a pdf of a review of the 20th Tai Chi Caledonia which appeared in the Tai Chi Union for Great Britain's magazine Tai Chi Chuan and Oriental Arts.
Click on the image below for a pdf of a  review that appeared in the German Taijiquan & Qigong Journal.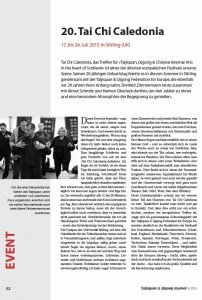 For this, our 20th year we played host to the Taijiquan & Qigong Federation for Europe and bring their bi-annual Congress/Forum to Scotland, to celebrate our joint 20th Anniversaries.

19th Tai Chi Caledonia

Tai Chi Caledonia was founded in 1996 to allow the people of Scotland and beyond to have the opportunity to work with high level instructors, offering a range of styles and approaches to Tai Chi Chuan, Qigong and other Chinese Internal Arts.
From these early days we have grown to become one of Europe's best known Chinese Internal Arts annual gatherings.