On this, our 23rd event, in addition to our usual high level instructors we have invited some special new guests to join us for the weekend. We have a total of 16 instructors joining us, 8 for the full week's duration and an additional 8 as weekend guests.  As a bonus we have another two instructors here just to provide an early morning Baguazhang session each day from Sunday through Thursday.
As usual we consider ourselves very fortunate to be able to host a selection of high quality teachers, from Europe and beyond, offering an interesting and varied range of workshops, something which we believe offers valuable educational material for all tastes and approaches to these arts.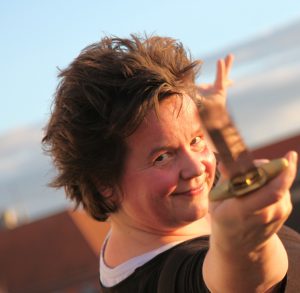 Angela Menzel Born 1969. A wushu lover, clown, drama teacher, director. Angela has been passionately practising Taijiquan since 1992, Tongbeiquan and Baguazhang since 2002 and Xinyiquan since 2010. She loves to foster, present and teach all four disciplines. Training all of them enriches cross connections and development of the other three disciplines and vice versa. Training is always vivid and exciting. Angela was lucky to be able to train in these four classical disciplines through the generosity of the family of Sha Guozheng from Kunming/ China, whose head, Sha Junjie, asked her to join the family in 2010. She has also had a long term love affair with different Qigong schools.
 www.tai-chi-schule-goettingen.de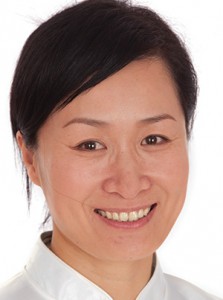 Yonghui Deistler-Yi was born in China and between1983-1990 she studied Fine Art at Shandong Art School and from1990 to1996 she studied oil painting with Prof. Hutter and Hundertwasser. Since 1988 she has been frequently published in art magazines and participated in major exhibitions in China and Austria. She lectured at Liao Ning Art Academy and is a consultant for various exercise courses and workshops in Austria. She has loved Chinese martial arts since childhood and has taught Taijiquan and Qigong in Austria for many years. Whether teaching Taijiquan or painting, Yonghui provides a good insight into Chinese culture, leading students to a        better understanding of their arts.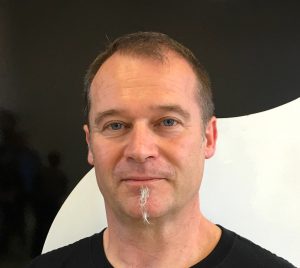 Sam Masich has inspired thousands of students along their path with his unique interpretation of the Chinese internal martial arts. Over the last 37 years his work as a full-time instructor has taken him to over a hundred cities in Canada, the United States, Mexico, England, Germany, Spain, Italy, Switzerland, Scotland, and China. Students from around the world have travelled to study with him in workshops and seminars such as his annual Summer Push Hands Training Camps held in Vancouver, Canada and in Berlin, Germany.
Recognized as one of the '100 Extraordinary Chinese Martial Arts Practitioners' in the world today by the International Wushu Sanshoudao Association, Masich is a certified eighth degree master. He is the creator of the The 5 Section Taijiquan Program, a preparation program for traditional taijiquan that is taught in countries around the world. In 2016 Masich publicly announced The Masich Internal Arts Method (Maxiqi Neijiaquanfa 馬希奇內家拳法) and accepted five formal disciples (tudi), taking on the traditional role of master (shifu 師傅).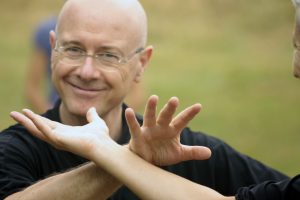 Roberto Benetti  has studied Taijiquan since1985. He later trained in Liu He Xin Yi Quan and Tuina. He has been a professional teacher for over 20 years, working in Italy and abroad where he regularly delivers seminars and lectures at major European events such as Nils Klug's annual Push Hands event in Hannover and perhaps the oldest European event, Rencontres Jasniers in France, to name just two.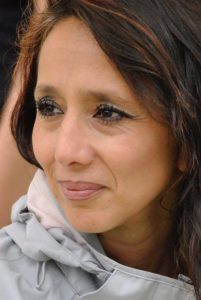 Yanira Masich Following a high-performance national-level athletics career, Yanira began her taijiquan studies in 1996 at the National University in her native México. In 2002 she became a co-instructor in the UNAM taijiquan program and has since worked with students in México, Canada, USA, Germany, England, Scotland, Spain, and Italy.
Yanira now teaches the full curricula of traditional Yang-style Taijiquan and 5 Section Taijiquan. With a further background in therapeutic massage, she helps students to find the heart of the art. Yanira also gives personal readings using the Chinese 'Book of Changes' (Yijing) and traditional Mexican 'animal spirits' (nagual).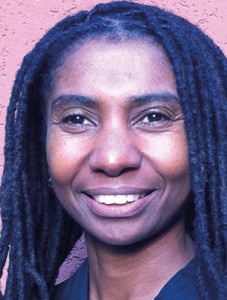 Gillian Reid  was born in London. Since 1992 she has been studying the art of Tai Chi Chuan and spiral chi kung, known as The Biospirals Method in Venice, with the Italian Tai Chi Research Association founded by Master Franco Mescola, where she graduated and currently teaches.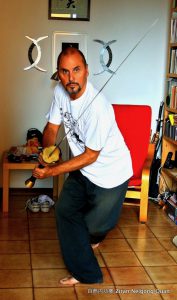 Luigi Zanini  has a long experience in martial arts. After 12 years of training in Shaolin, Tanglang, Tantui and Baguazhang, he started investigating the practical aspects of sparring as well as developing internal skills. His practice includes Yiquan, Xingyiquan, Taijiquan and other fighting methods. A young Italian champion in forms and weapons, he holds official titles in Baguazhang, Yiquan, Chinese Traditional Medicine and Krav Maga. Since 1990 he has taught Baguazhang and Qigong all over Europe, is a regular guest teacher at major European martial events and in 2013 formed a complete Baguazhang instructors' syllabus. He has published several articles in different languages, some books and a blog on martial arts.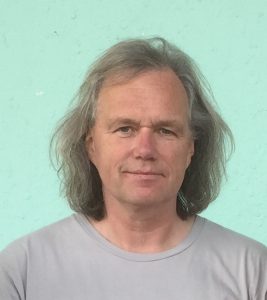 Helmut Oberlack was born in 1958, started learning taiji and qigong in the early eighties. He has learned  Yang-style shortform (Zheng Manqing) and longform (Yang Zhenduo) and a number of qigong-systems like Shibashi, Ba Duan Jin, Yu Bei Shi, and more. He teaches on a private basis at his home in the north of Germany and works for a sports federation in Hamburg training teachers to qualify them to teach qigong in sports clubs. Helmut is also publisher of the German Taijiquan & Qigong Journal.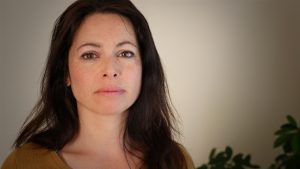 Tina Faulkner-Elders  began training as a young child in Gong Fu and Chin Na with her father, Gordon Faulkner.
At twenty she moved to Beijing to study Daoyin Yangsheng Gong at the Beijing Sports University, graduating in 1996. At this time she entered international competitions, winning a number of medals. Whilst living in Beijing, Tina began studying with Master Shi Ming, a national treasure of China and author of Mind Over Matter.
On her return from China, Tina opened her own school in Aberdeen (Scotland) and taught regularly in America. She had the privilege of studying with and hosting Professor Li DeYin on a number of occasions and also acting as ambassador when Professor Li DeYin was invited to teach in New Hampshire, America.
Tina has continued to return to China, over the years, studying the system of Health Qigong  known as Daoyin Yangsheng Gong at the Sports University of Beijing.
Around ten years ago Tina was introduced to Master Chen LiSheng, 15th Generation Disciple of Wudang Xuanwu. Tina's school has recently been awarded the first Teaching Cooperation to the Wudang Daoist Wuji Gongfu Academy, thereby creating a direct cultural link to Wudang Mountain. Now her continued self cultivation takes her to WuDang to study Taijiquan, Qigong and more recently Baguazhang with Master Chen.
Tina regularly hosts Master Chen LiSheng in the UK and organises study trips to the Wudang Daoist Wuji Gongfu Academy, Wudang, China.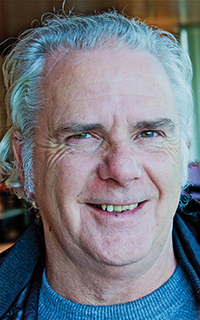 Bob Lowey has studied martial arts since the 1960s including karate, judo and Wang Kung Shou Tao in 1979. He has taught since 1985 and has achieved international recognition through his regular appearance at major European tai chi events. He is a 15th generation disciple of Master You Xuande and Scottish Secretary for South Wudang Daoist Association.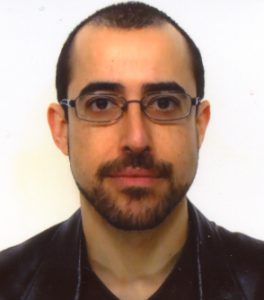 Javier Arnanz was born in 1975 and has practised Chinese martial arts for 20 years. An internal student of Sam Masich he teaches the Masich Internal Arts Method in Spain. Javier has successfully participated in national and international tournaments as competitor and coach. Javier combines his teaching in Taichi and Health Qigong with his practice as an osteopath and his experience as sport psychologist training coaches in pedagogy and training techniques.

Cunyi Deistler started practising Gongfu as an eight-year-old. The masters he learned from are Zhou Zhendong, Wang Lianyu, Lau Kungking, Chen Shihong and his father, Nikolaus Deistler. His techniques are mainly rooted in Tanglangquan (Praying Mantis Style) with influences of Yang style Taijiquan and MMA. Cunyi has won various competitions in Austria, as well as China. As a graduate of graphic design, working in the industry of visual communications, he possesses a very keen eye for movement.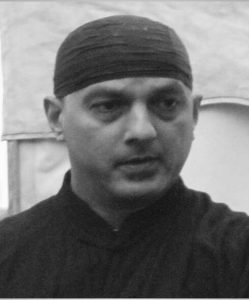 Birinder Tember is a Chinese Medical Physician as well as a Master of the Internal Arts graded at 6th Duan by the Chinese Wushu Association, Beijing.  Birinder is passionate about Xing Yi Quan and has studied a broad range of Martial Arts for many decades. A disciple of Sha Junjie,  Birinder is well versed in Tai Chi, Xing Yi Quan, Tong Bei, Bagua Zhang and Qigong, which he teaches at his Wuguan in London. Additionally, he is currently the Acupuncture Clinical Director at the College of Naturopathic Medicine and has headed MSc (Masters of Science) programs in Nutrition; Chinese Herbal Medicine and acupuncture since 2005 and sees patients at his private clinics in London and Surrey.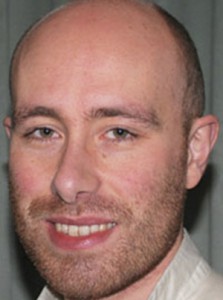 Ben Morris has studied East Asian martial arts for over 20 years: Kyushindo Judo, Taiji, Xing Yi & Bagua. He is an active competitor winning several national and international competitions in tui shou and ground grappling. He has published a number of books on martial arts/philosophies of the orient. He lectures in Health Psychology at Leeds Trinity University.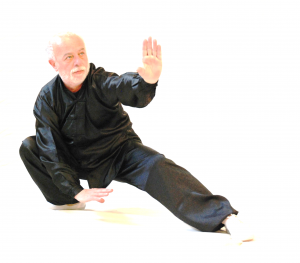 Enrico Colmi  is a medical doctor who now practises Traditional Chinese Medicine (acupuncture, tuina massage, etc.) and Osteopathy.  He studied Taoist Qigong with Master Mantak Chia in Thailand and Chinese Kungfu (Baguazhang, Xingyiquan and Liuhe Tanlangquan) with Master Liu Jingru in China.
He has over 20 years of teaching experience and recently has developed a particular method of qigong: 'QIGONG-NEIGONG of the 5 dynamics'.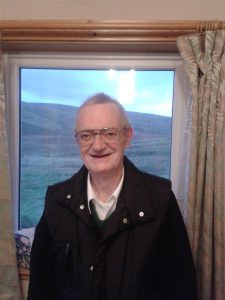 Barrie Jehu started learning martial arts in the mid-60s     with archery and fencing; in the mid-70s he moved to       Shetland  where the only thing available was Shotokan     karate. In the 80s he started learning Tai Chi, for forms     following the teachings of Chen Yanlin and Chen                 Weiming, both students  of Yang Cheng Fu.
Simona Longeri started her martial arts studies in 1999 with Liu He Ba Fa Quan under Master John Shadow. After further studies with Prof. Li Xiaoming she became an instructor of Therapeutic Qi Gong.
In 2002 she began studying Xing Yi Quan, Bagua Zhang and Yi Quan with M. Yang Linsheng and Liu Chunyan,  going on to study Chen Style Taiji Quan with M. Xiaowang and M. Zhu Tiancai.
In 2006 she started to study Taiji Quan, Xing Yi Quan, Bagua Zhang and Yi Quan of Cheng Ming style (created by Wang Shujin) with M. Paolo Magagnato.
Simona gained 1st place in Tui Shou and 4th place in Tai Ji form at the international tournament in Taiwan in 2012. Today she is a Martial Arts, Yoga, and Pilates teacher.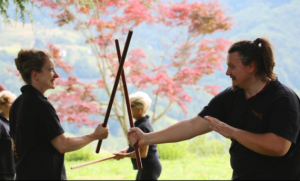 Sergio Uzzo started his martial arts studies with with Master Yang Lin Sheng: Tai Ji (Chen Style), Xing Yi Quan, Yi Quan, Ba Gua Zhang. Then he studied Cheng Ming Style (Wang Shujin School), Tai Ji, Xing Yi Quan, Ba gua Zhang and Qi Gong with Master Paolo Magagnato. During the same period he studied also GM. Guo Guizhi's Da Cheng Quan – Yi Quan. Studying directly under the direction of GM. Whang Fu Lai and GM. Huang Su Chun Sergio gained the international certification for Tai ji and Qi Gong of Cheng Ming School. During these years he also had the opportunity to study Taikiken with GM Michio Shimada Sensei. In 2016 he began his Sun Family Ba Gua Zhang studies with Master Luigi Zanini.