Over the course of the week we are deeply privileged to host some of Italy's most highly experienced instructors.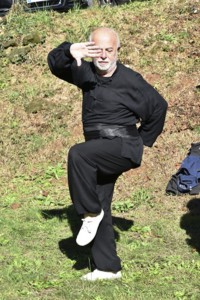 ENRICO COLMI – Enrico is a promoter and a member of the Technical Commission in Bagua-FIWUK Group. Cheng Tinghua Style, he was the first European student of Master Liu Jingru. Former Sport Medicine doctor, he now practises Traditional Chinese Medicine (acupuncture and tuina massage) and Osteopathy. He has also studied Xingyiquan and Liuhe Tanlang Quan with Master Liu and Taoist Qigong with Master Mantak Chia in Thailand. Enrico has also developed a peculiar method of qigong: 'QIGONG-NEIGONG of the 5 dynamics' and is the author of a study about athletes posturology.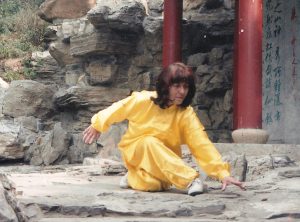 LIVIA DUTTO – Cheng Tinghua Style. Livia is a student of Master Liu Lingru, with whom she has studied Baguazhang and Liuhe Tanglangquan. She studied Daoyin Yangshenggong and other types of Qigong and Taijiquan at the University of Sport in Beijin. She has held important federal assignments in FIWUK, the Italian Wushu and Kungfu Federation. She teaches Master Liu Jingru's Baguazhang, Taijiquan Yang style and Prof. Zhang Guangde's Daoyin Yangshenggong (particularly for the elderly).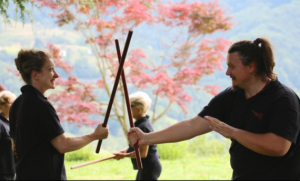 SERGIO UZZO
In 2006 Sergio started his martial arts studies with Master Yang Lin Sheng: Tai Ji (Chen Style), Xing Yi Quan, Yi Quan, Ba Gua Zhang. Then he studied Cheng Ming Style (Wang Shujin School), Tai Ji, Xing Yi Quan, Ba gua Zhang and Qi Gong with Master Paolo Magagnato. During the same period he studied also GM. Guo Guizhi's Da Cheng Quan – Yi Quan. Studying directly under the direction of GM. Whang Fu Lai and GM. Huang Su Chun Sergio gained the international certification for Tai ji and Qi Gong of Cheng Ming School. During these years he also had the opportunity to study Taikiken with GM Michio Shimada Sensei. In 2016 he began his Sun Family Ba Gua Zhang studies with Master Luigi Zanini.
SIMONA LONGERI
In 1999 Simona started her study of martial arts with Liu He Ba Fa Quan under Master John Shadow. After further studies with Prof. Li Xiaoming she became an instructor of Therapeutic Qi Gong.
In 2002 she started to study Xing Yi Quan, Bagua Zhang and Yi Quan with M. Yang Linsheng and Liu Chunyan,  going on to study Chen Style Taiji Quan with M. Xiaowang and M. Zhu Tiancai.
In 2006 she started to study Taiji Quan, Xing Yi Quan, Bagua Zhang and Yi Quan of Cheng Ming style (created by Wang Shujin) with M. Paolo Magagnato.
Simona gained 1st place in Tui Shou and 4th place in Tai Ji form at the international tournament in Taiwan in 2012.
Today she is a Martial Arts, Yoga, and Pilates teacher.