Ken Van Sickle studied with Professor Cheng Man-Ching from 1967 to 1975 and since 1988 has presented workshops in the USA and many European countries in the years since. He has graced Tai Chi Caledonia with his presence on a couple of occasions and is always well-received.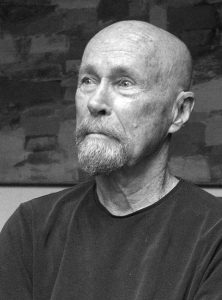 We are pleased to host Ken in the first weekend of his forthcoming European Tour. The workshop will be on Saturday and Sunday 20th/21st May 2017 from 10.00 – 16.00 (for 16.30) each day in
Partick Burgh Halls
9 Burgh Hall St,
Glasgow
G11 5LW
This venue is within a few minutes walk from the Partick Transport hub where trains, subway and buses converge. There are a number of cafes (and a Gregg's!) nearby for lunch if you do not want to bring your own with you.
The  content of this workshop will be:
– Sword applications for fencing.
– Applications from the hand form for push hands and self defence.
– Non competitive push hands.
Attendees should bring a wooden (if possible) sword with them!
The cost of the weekend will be £180 or, if booked and paid for before 31st March 2017,  £150. As places are limited we are currently only taking reservations from people wishing to attend for both days. If nearer the time there are spaces left it may be possible to open it up for those who can only attend for one of the days. A deposit of £50 is required to reserve your place with the balance due by 30 April 2017.
Online payments should be made, clearly showing your name, to:
Sort code: 11-00-01
Account:   15180864
Cheque payments should be sent to :  KVS, 6 Sandeman Place, Luncarty, Perth, PH1 3RJ
Here is Ken at Tai Chi Caledonia a few years ago.
SUGGESTIONS ABOUT ACCOMMODATION IN GLASGOW
If you are thinking of booking a hotel or B&B in Glasgow, we suggest that you aim for something in the Charing Cross G2 area, where there are many restaurants available. You could then travel by low level train from Charing Cross station to the Partick interchange (one stop). This is only a short walk from the Partick Burgh Halls.
Premier Inn, Charing Cross
10 Elmbank Gardens, G2 phone 0870 990 6312
www.premierinn.com
Newton Hotel
248 – 252 Bath Street G2 phone 0141 332 1666
www.newtonhotel.co.uk
Adelaides Guest House
209 Bath Street G2 phone 0141 248 4970
www.adelaides.co.uk
Of course there are many more central hotels. These are close to the Cowcaddens subway station, from which you could also travel to the Partick interchange:
Easy Hotel Glasgow City
1 Hill Street G3 phone 07738 426498
www.easyhotel.com
Citizen M Hotel
6o Renfrew Street G2
www.citizenm.com